The Blue Devils head to Blacksburg eyeing their second win in three days
Duke's players could leave the locker room after a hard-fought win over Miami on Saturday and enjoy it for at least a few hours.
Jon Scheyer was going to leave his post-game press conference and dive into Virginia Tech preparations.
"We're going to enjoy this here for a little bit — or, they can enjoy it for a little bit," Scheyer said. "We're not. We're going to go back and start getting ready."
Duke's quick turnaround has the Blue Devils playing at Virginia Tech on Monday night. Although the opening 34 days of the season saw a grueling stretch, it's only the second time Duke will play on a one-day prep — the other time, Duke beat Xavier and lost to Purdue in the final of the PK Legacy.
"That's the biggest thing, move on and understand the fight you have to have every single game," Scheyer said.
This is the first of three Saturday-Monday swings remaining on the schedule. Duke's first game against UNC (Feb. 4) will be followed by a trip to Miami, and the Blue Devils will return home from Syracuse (Feb. 18) for a home date with Louisville.
The fight was certainly there against the Hurricanes, when Duke went the final five minutes without a field goal and still found a way to win. Locking things up defensively and winning races to 50-50 balls was never more important than the closing stretch on Saturday.
"Coaches talk about it all the time, it's cliché and stuff, but those things are important," grad transfer Jacob Grandison said. "Those balls are important."
Duke will have to dig deep on short rest to be the hungrier team again, and the Blue Devils will do so against a team that figures to be ready for a knock-down, drag-em-out battle.
Virginia Tech has lost seven straight games and that only tells part of the story.
One of those seven games has been decided by double digits, and that was a 78-68 loss at Virginia last week. Overall, the Hokies have lost these last seven games by a combined 29 points.
Duke, for that matter, has played in its share of close games. Each of the last four games has been decided by less than 10 points, including 1- and 2-point wins. The Blue Devils are 6-2 this season when the margin is within 10.
"We've been in a lot of really close games, we slipped up at Clemson and really reviewed that and had a great week of practice," freshman Tyrese Proctor said.
**********
Here's what to know ahead of Monday night's game:
Thus: 7 p.m
Location: Cassell Coliseum, Blacksburg, Va.
TV: ESPN.
Announcers: Dave O'Brien (play-by-play), Cory Alexander (analyst), Andraya Carter (sidelines).
Series; last meeting: Duke leads 51-12; Virginia Tech won 82-67 in the ACC championship last season; Duke won 76-65 in the regular season.
Of note: Duke has lost four of the last five meetings at Virginia Tech.
Records: Duke 14-5, 5-3 ACC; Virginia Tech 11-8, 1-7.
Status to watch: 19 of 25.
The 19 assists against Miami matched a season-high for Duke and that's only half of why that was important for the Blue Devils.
That it was 19 assists on 25 field goals, a 76% clip, marked the highest assist rate of the season for Duke. In the previous two games, the Blue Devils had 22 assists on 48 field goals.
"I would still say at some points of the game, we were still getting a little antsy, trying to go 1-on-1, stuff like that," point guard Jeremy Roach said. "But we were definitely moving the ball, trying to get drive-and-kicks. We knew they liked to plow, so just finding the open man and making it as easy as possible."
Duke, as Scheyer has pointed out, is not a jump-shooting team. It's also not a team that has a plethora of options when it comes to shot creation — although Roach's return is key.
What Duke is, at least on the offensive end, is a team that needs crisp ball movement in order to find the best possible shot. That's why Scheyer has stressed a few times in the last week the Blue Devils' need to share the ball, and it was on display against Miami.
Matchup to watch: Duke's frontcourt vs. Virginia Tech's frontcourt.
Kyle Filipowski has three grown-man double-doubles in a row (28-15, 18-14, 17-14), Ryan Young has been steady, Mark Mitchell's versatility is immensely valuable, and Derek Lively II is coming off his most active game, with six points, 10 rebounds and five blocks — those last two registering as season highs.
VT runs everything through its frontcourt.
That means Duke will have to limit the effectiveness of forwards Justin Mutts and Grant Basile.
Mutts is a sixth-year player whose versatility has been a perfect fit for Mike Young's system. He has a higher assist rate (24.6) than point guard Sean Pedulla (22.6, both per KenPom). Basile is a 6-9, 235-pounder who transferred from Wright State. He's made the second-most 3s on the team (35), trailing Pedulla by one.
Maybe it bodes well that PJ Hall (20) and Hunter Tyson (12) combined for 32 of Clemson's 51 points on Saturday.
Hockey to watch: Guard Hunter Cattoor (No. 0).
You probably don't need a reminder on the reasoning here, but just in case…
Cattoor lit up Duke for 31 points in the ACC championship game last year, hitting 7 of 9 3-pointers in Brooklyn. His one-man wrecking crew performance earned him tournament MVP honors in an event where he had 18 points in the other three games combined.
He hasn't carried that performance into this season.
The fourth-year guard who originally signed with Wofford (and moved with Young) has one 20-point game, which came against William & Mary in the third game. Cattoor missed four games with an elbow injury and played in the last two games, scoring 17 points on 6-for-16 shooting against Virginia and Clemson.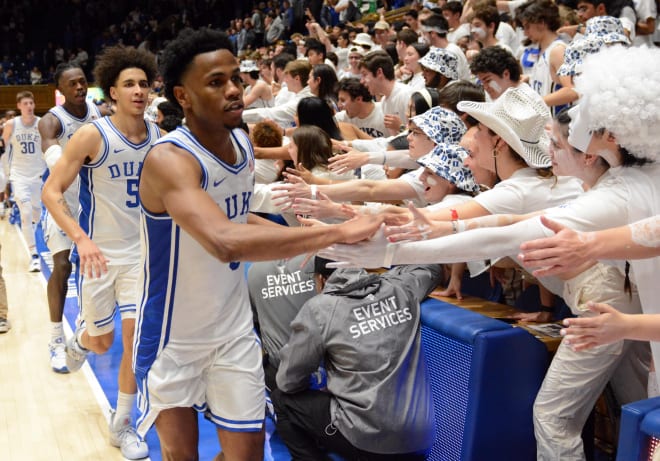 Blue Devil to watch: Guard Jeremy Roach (No. 3).
The first step to Roach's return was getting the junior point guard back on the court for the Blue Devils. The second step was for Roach to return to his form from November and December; not the hobbled version who was ineffective in three games before sitting out.
Check and check.
Roach's 14-point effort against Miami was exactly what the Blue Devils needed. He penetrated against Miami's defense and found Lively at the rim or open shooters on the perimeter. His finishes inside were something Duke was desperately missing against Clemson last weekend.
And then there is the intangible effect of the Blue Devils having a seasoned ball-handler return.
"I feel like it gives them a little bit of a confidence boost when I'm out there," Roach said. "Obviously I'm the older guy, they can lean on me when things get tough, that's what I'm here for."
KenPom prediction: Virginia Tech wins 68-67.
Devils Illustrated forecast: The metrics love Virginia Tech and it feels like the Hokies are bound to turn things around, similar to last season. It felt like the start of that was coming until a late Tyson 3-pointer on Saturday night.
But it also feels like Duke took some key steps with Saturday's win against Miami. It's a Blue Devils team that has a clear-cut identity; it's just not the identity you might have thought it'd be entering the season.
Duke has to play lock-down defense. It has to win races to 50-50 balls and fight like hell for rebounds. The Blue Devils aren't a team equipped to go on big scoring runs in short amounts of time; their killshots (10-0 runs or greater) will often come because of defense instead of offensive skill.
It probably goes without saying: The whole "let's not make a field goal in the last five minutes and try to win" approach isn't a sustainable strategy.
So it kind of feels like we're destined for a close game, in which it comes down to Duke executing offensively in late-game situations.